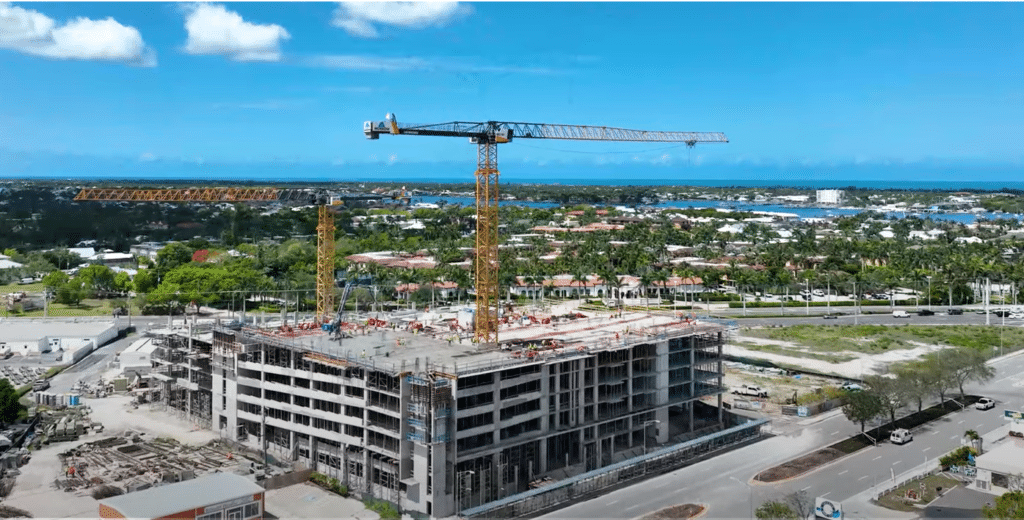 NAPLES, FLORIDA, August 2, 2023 – The construction of Ascent at Metropolitan Naples, a joint venture involving The Dolben Company, Inc., ("Dolben"), GFI Development, LLC ("GFI") and SK2 Capital ("SK2"), is advancing at an impressive pace. The luxury apartment development, located at 1950 Mayfair Street in Naples, Florida, broke ground in September 2022. Currently, concrete has been poured up to the eighth floor and the first occupancy is slated for Fall 2024.
When completed, Ascent at Metropolitan Naples will boast 270-units, ranging from exquisite 576-square-foot studios to spacious 2,133-square-foot penthouses, complemented by restaurant/retail space as well as six stories of garage parking below the residences. Community amenities will include 24/7 concierge services, a 7th floor infinity pool and sundeck, state-of-the-art two-story fitness center, pet spa, and more. Apartment finishes will feature keyless entry, quartz countertops, luxury vinyl plank flooring, stainless steel appliances, and breathtaking views of the Gulf of Mexico – spanning from Port Royal to Sanibel Island.
Strategically situated near downtown Naples, 5th Avenue and the Gulf of Mexico beaches, Ascent aims to revitalize the gateway to Naples as part of the larger Metropolitan Naples master plan. Spanning across a 5.3-acre parcel, Metropolitan Naples is undergoing an extraordinary transformation into a vibrant mixed-use community. Consisting of three 15-story buildings, this iconic development will have entrances accessible from both U.S. 41, past 5th Avenue South, and Davis Boulevard. The ground floors of each building will feature dining options and/or unique boutique retail shops, creating a vibrant atmosphere. Parking will be seamlessly incorporated within the initial floors of each building, with convenient valet parking services available.
Metropolitan Naples is a place where people can live, work, and enjoy their leisure time, all in one exceptional location. In many ways, Metropolitan Naples represents the next chapter in the vibrant lifestyle that extends from the Gulf beaches to the east along 5th Avenue South, continuing a legacy of progress and liveliness.
To learn more about Ascent at Metropolitan Naples, visit www.ascentmetronaples.com.
About The Dolben Company
With offices in Massachusetts and Maryland and more than 15,000 residential units throughout the New England, Mid-Atlantic, and Southwest Florida regions, The Dolben Company, Inc. is built on a deep heritage of performance and stewardship. Since 1929, five generations of the Dolben family have upheld a proud tradition of unparalleled success and profitability, fulfilling the property and investment needs for a wide array of businesses, financial institutions, organizations and private investors. For more information on The Dolben Company, visit www.dolben.com. 
About GFI Development
Since its inception in 1983, GFI has successfully acquired, developed, repositioned, operated and dispositioned over $4 billion in real estate assets. The firm currently holds over $2 billion of highly diversified hospitality, residential and retail assets under management and development concentrated in New York City, Florida and Kansas City, MO, along with geographical segregation in Colorado, Florida, Missouri, Kansas and South Carolina markets. For more information on GFI, visit www.gficap.com. 
About SK2 Capital
Founded in 2013 as an institutional platform for real-estate related investments, SK2 has successfully participated in over $500m of real estate-based investments and attracting institutional partners by consistently demonstrating its ability to execute on complex transactions and delivering results under all market conditions. For more information on SK2, visit www.sk2capital.com.