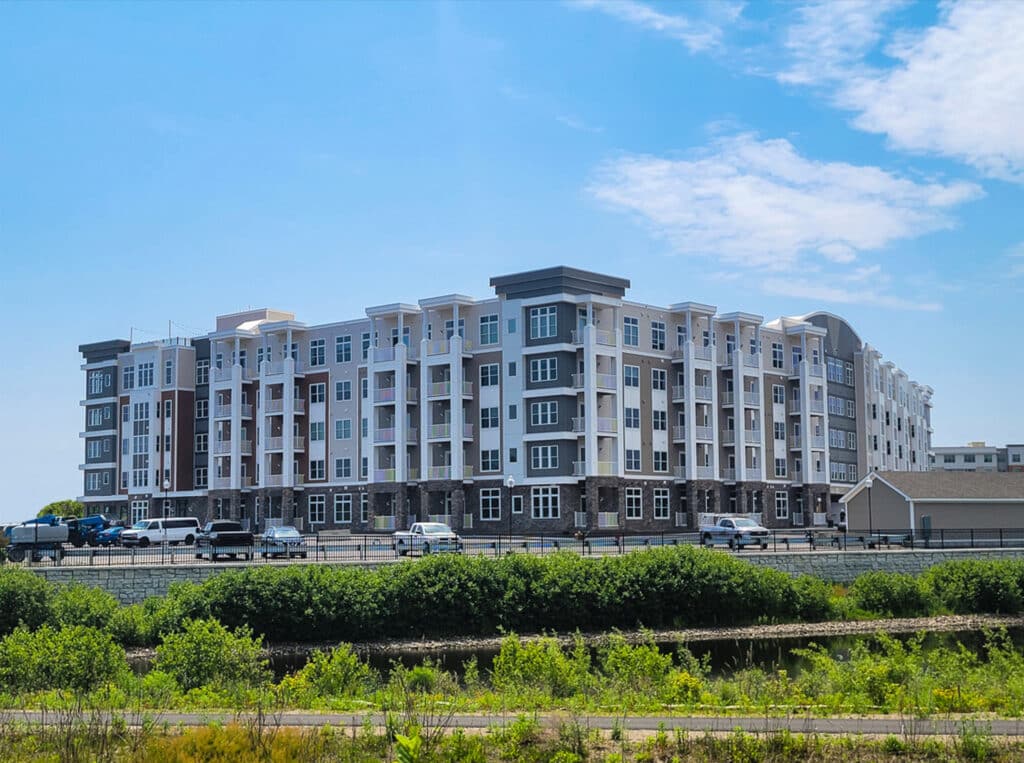 May 1, 2023, WOBURN, MA – The Dolben Company, Inc. ("Dolben") is pleased to announce that Caro is now leasing. This 260-unit community in Salem, NH is set in the newly developed, mixed-use destination of Tuscan Village, right on the border of Massachusetts and New Hampshire. Dolben is looking forward to managing Caro as their second joint venture with Wakefield Investments, Inc., alongside Caro's sister property, Corsa in Tuscan Village.
The property boasts a stunning single five-story building with a range of floor plans, including studios, one-, two-, and three-bedroom apartments. Each home has been designed with modern features such as quartz countertops, stainless steel appliances, spacious closets, private balconies (in select units), modern plank flooring, smart thermostats and in-unit washer & dryers.
Caro residents will also have access to an array of amenities, including a resort-style pool, state-of-the-art fitness center, rooftop lounge, dog park, work-from-home spaces, a game room, an outdoor courtyard with firepits and more. And because Caro is situated in the heart of Tuscan Village, residents will also have countless dining, retail, and local events right at their fingertips. From restaurant options like Tuscan Market and Pressed Café to shopping with premium brands such as L.L. Bean, Homesense and Nike to endless community events and cultural celebrations at Lake Park, there's always something to do in Tuscan Village. Future residents can experience a lifestyle of comfort, convenience, and luxury. Current rents range from $2,080 to $4,070/month. Interested parties can learn more at www.livecaro.com.
Andrew K. Dolben, Executive Vice President at Dolben, noted, "We are delighted to announce the commencement of pre-leasing at Caro. As Tuscan Village represents the largest retail and entertainment destination in Southern New Hampshire, we are looking forward to a successful lease-up of our newest apartment homes."
About The Dolben Company, Inc.
With offices in Massachusetts and Maryland and more than 17,000 residential units throughout New England, the Mid-Atlantic and Southwest Florida regions, The Dolben Company, Inc. is built on a deep heritage of performance and stewardship. Since 1929, four generations of the Dolben family have upheld a proud tradition of unparalleled success and profitability, fulfilling the property and investment needs for a wide array of businesses, financial institutions, organizations, and private investors. For more information on The Dolben Company, visit www.dolben.com.